MSC Cruises to Be Featured on PBS Television Series Travels and Traditions

FORT LAUDERDALE, FL -- (Marketwire) -- 02/05/13 -- Famed travel expert and award-winning journalist Burt Wolf sails the ancient route of the Venetian traders -- Venice to Bari, and across the Adriatic Sea to Montenegro on board the MSC Divina during a half-hour PBS (Public Broadcasting System) television show, Travels and Traditions, that starts airing this month.
Viewers can follow Burt as he explores one of the most photogenic coastlines in the world through Turkey, Malta and Sicily, visiting walled cities, discovering UNESCO World Heritage sites and strolling cobblestoned streets in the quaintest of villages.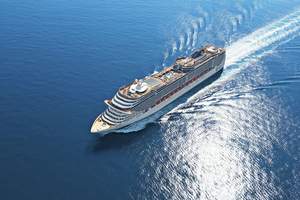 Beginning February 10th, during the next six months, Travels and Traditions is scheduled to air on PBS stations across the United States and abroad. Listed below are upcoming U.S. airdates and stations. Please check your local television listings for additional dates and times.
MSC Cruises is a privately-held, family-owned, Italian cruise line with a fleet of 12 ships. MSC Divina will be sailing from North America for the first start in Fall 2013 from PortMiami. For more information about MSC Cruises, visit us online at www.msccruisesusa.com, call 1-877-655-4655, or contact your local travel professional.
CHANNEL AIR DATE AIR TIME MARKET STATE WTTW HDTV 2/10/2013 1:30:00 PM Chicago IL KETC HDTV 2/10/2013 4:30:00 AM St. Louis MO WKNO HDTV 2/10/2013 12:30:00 PM Memphis TN KLCS-DT 2/14/2013 10:30:00 PM Los Angeles CA WILL HDTV 2/14/2013 7:30:00 PM Champaign, IL IL UNC-EX 2/15/2013 11:00:00 PM Raleigh-Durham NC UNC-EX 2/15/2013 11:00:00 PM Raleigh-Durham NC UNC-EX 2/15/2013 11:00:00 PM Raleigh-Durham NC UNC-EX 2/15/2013 11:00:00 PM Charlotte NC UNC-EX 2/15/2013 11:00:00 PM Charlotte NC UNC-EX 2/15/2013 11:00:00 PM Greenvll-Spartan NC UNC-EX 2/15/2013 11:00:00 PM Greensboro NC UNC-EX 2/15/2013 11:00:00 PM Greenville-New Bern NC UNC-EX 2/15/2013 11:00:00 PM Greenville-New Bern NC UNC-EX 2/15/2013 11:00:00 PM Greenville-New Bern NC UNC-EX 2/15/2013 11:00:00 PM Myrtle Beach NC UNC-EX 2/15/2013 11:00:00 PM Wilmington NC KUHT HDTV 2/16/2013 12:00:00 PM Houston TX WPBT HDTV 2/16/2013 12:00:00 PM Miami FL WTCI HDTV 2/16/2013 2:30:00 PM Chattanooga TN MPT2 2/17/2013 12:30:00 PM Washington MD MPT2 2/17/2013 12:30:00 PM Washington MD MPT2 2/17/2013 12:30:00 PM Pittsburgh MD MPT2 2/17/2013 12:30:00 PM Baltimore MD MPT2 2/17/2013 12:30:00 PM Baltimore MD MPT2 2/17/2013 12:30:00 PM Baltimore MD MPT2 2/17/2013 12:30:00 PM Salisbury MD
Image Available: http://www2.marketwire.com/mw/frame_mw?attachid=2220522

Add to Digg Bookmark with del.icio.us Add to Newsvine
CONTACT:
Yvette Batalla
954-958-1024
Email Contact


Copyright @ Marketwire